Concert Pix!
Chesapeake Bay Blues Festival Pix!
The 8th annual Chesapeake Bay Blues Festival was held on May 16-17, 2009 at Sandy Point State Park, in Annapolis, Maryland. This year's charities were the Special Olympics of Maryland, Camp Face, We Care and Friends, and the Johns Hopkins Cleft & Craniofacial Center. If going to the festival, be aware of telephoto lens restrictions for some of the headlining artists.
This Harley Davidson was signed by the Baltimore Raven's football players. The raffle benefited the Special Olympics of Maryland.

Enjoy the view of the Chesapeake Bay!

Enjoy the food!

Enjoy the cigar!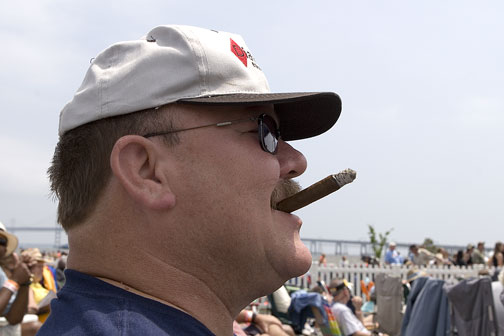 Enjoy the comradery with the Mud, Sweat and Beers Crew!

___________________________________________
Other cool stuff.
Canon Digital Photo Professional - An online tutorial shows you how to edit and process RAW files.
Hale Family Tree - This website provides genealogy information on the Hale family of Spencer County, Indiana. As a sideline, it also includes the Hayden family of Vanderburgh County, Indiana.